335 Jefferson SE, Albuquerque, NM 87108 (Map) | P: 505-265-3497 | F: 505-266-4538 | F: 505-872-2377 |


Large Format Labels
With our Roland Versacamm, we are able to print full color labels and decals and cut into custom shapes up to 53" wide as the shorter dimension. For small quantities, rates are $10/sq foot, plus set-up charges, and start at $25.00/sq. ft. for single decals.
We are also able to print one-way vision window vinyl with the same technology, as well as short run bumper-stickers.
With digital technology, we can also print full color sheets of labels up to 11x17.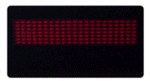 Scrolling LED Badges
Only $29.95!
Personalize your name badge with a scrolling message that you can easily change with its simple computer interface. You set the speed and message. One of the best advertising items we've seen!