335 Jefferson SE, Albuquerque, NM 87108 (Map) | P: 505-265-3497 | F: 505-266-4538 | F: 505-872-2377 |


Why Buy Promotional Items?
Promotional Items and Ad Specialty Products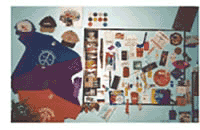 Looking for promotional products?
You've come to the right site.
Whether you are looking for a specific item or just browsing for ideas, our site is your one-stop shopping source. From fun items to the traditional, you can easily search for some of the hottest items on the market. Browse and purchase from our online catalog of promotional products.
In-house product imprinting, screen printing and foil stamping are available, allowing for small quantity printing and fast turnaround time.
Quickly and easily search our vast database of products for items to:
Obtain new customers
Reward customer loyalty
Retain customers
Create "Top-Of-Mind" awareness
Improve traffic at trade shows
Motivate staff
Thank a customer
Increase safety awareness
We can help you find a promotional product that:
Supports your intention
Is related to your industry or theme
Has high visibility
Has a long shelf-life
Fits within your budget
Meets your time deadlines
Browse and purchase from our online catalog of promotional products. We will print to order.

You will get the best prices on all your promotional items and ad specialty products. Contact us directly or you can purchase online through our links to thousands of suppliers to meet any promotional product need you may have. Giveaways, incentive awards, imprinted gift items, you'll find what you need here! Located in Albuquerque, New Mexico, we are linked to suppliers nationwide. Upload your artwork or we can design it for you.