335 Jefferson SE, Albuquerque, NM 87108 (Map) | P: 505-265-3497 | F: 505-266-4538 | F: 505-872-2377 |


Giveaways
People and organizations often provide giveaways at trade shows and front counters. giveaways are a fine way to create brand and name recognition and keep "top-of-mind" awareness. Some of the most popular giveaways include:
These items are available in a HUGE range of styles and prices. Let us help you find the giveaway that is perfect for you.
On the Win $1000 page there are several search engines to browse (if you know what you want) and for ideas (if you aren't sure). We would like to draw attention to the fact that on this page and on other pages there is a large selection of Union-made and Eco-friendly promotional pens, mugs, calendars, keytags, notepads, t-shirts and other items too numerous to list here.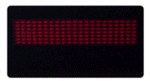 Scrolling LED Badges
Only $29.95!
Personalize your name badge with a scrolling message that you can easily change with its simple computer interface. You set the speed and message. One of the best advertising items we've seen!