335 Jefferson SE, Albuquerque, NM 87108 (Map) | P: 505-265-3497 | F: 505-266-4538 | F: 505-872-2377 |


Personalized Gifts
Personalized Gifts Mean You Care
Are you looking for something special to give to your bridal party, family members, co-workers or friends? Are you looking for special party favors? Focus Ink can help. In addition to having access to a plethora of manufacturers of personalized gifts, our in-house capabilities give you even more options.
Screen Printing and Pad Printing Need something this week? Rush job? Our in-house pad printing and screen printing allow for fast turn around of imprinted items. If you need personalized gifts of full-color t-shirts, tiles, coasters or placemats, our direct-to-garment printer allows us to even print just one. Personalized golf balls are a favorite of golfers. Small quantities of personalized gifts such as mugs or novelty items including plastic shark's heads, frisbees and walnuts are possible with our equipment.
Personalized gifts stir memories. Get something special for your party guests to take home for lasting memories of your event.
Yes, we will personalize products that you purchase and bring to us. Please contact us for product suitability and specifications.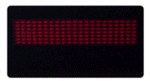 Scrolling LED Badges
Only $29.95!
Personalize your name badge with a scrolling message that you can easily change with its simple computer interface. You set the speed and message. One of the best advertising items we've seen!