335 Jefferson SE, Albuquerque, NM 87108 (Map) | P: 505-265-3497 | F: 505-266-4538 | F: 505-872-2377 |


Promotional Pens
Promotional pens are some of the most popular of promotional items.
There is a staggering variety of promotional pens from inexpensive stick pens to novelty shapes to custom-cast metals. Many pens have multiple functions including having carabiner clips, mini-flashlights and rotating colors.

Banner pens provide massive advertising space. Rotating message pens also allow for increased message area.
Special Note: A promotional pen that runs out of ink quickly will sabotage your promotion. Therefore, spending a few cents more to buy a pen from a reputable manufacturer such as BIC will greatly enhance its usefulness and with its longevity and visibility.
Many people go for cheap but if you get a pen that gets lost in a purse because it's indistinguishable from other pens, you've wasted your money. However, if cheap pens are what you want, we're happy to sell them to you!
Focus Ink does carry a small selection of promotional pens in stock for rush jobs or below minimum quantities as we can print these in-house.
Explore our selection!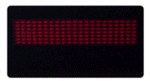 Scrolling LED Badges
Only $29.95!
Personalize your name badge with a scrolling message that you can easily change with its simple computer interface. You set the speed and message. One of the best advertising items we've seen!