335 Jefferson SE, Albuquerque, NM 87108 (Map) | P: 505-265-3497 | F: 505-266-4538 | F: 505-872-2377 |


Union Labels & Bumper Stickers
Focus Ink offers you the following label options:
Single color labels on rolls, including numbering and barcoding with 24 hour rush available
Small quantitiy (up to 1000) bumper stickers with 24 hour rush availability.
Blank unprinted label stock on sheets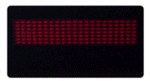 Scrolling LED Badges
Only $29.95!
Personalize your name badge with a scrolling message that you can easily change with its simple computer interface. You set the speed and message. One of the best advertising items we've seen!