335 Jefferson SE, Albuquerque, NM 87108 (Map) | P: 505-265-3497 | F: 505-266-4538 | F: 505-872-2377 |


Labels On Rolls

High Quality Union Offset and Digitally Printed Labels on Rolls
For our roll labels with multiple colors and larger quantities, we offer 2 online options. View (but not purchase) our IUPAT union printed label options, and then contact us to order. Offerings include roll labels, decals, bumper stickers, and other adhesive products. Please see our standard color chart for these labels. PMS colors are available for an additional charge.
For your online ordering ease, we offer roll labels from a non-union affiliate. You can upload your art or design online. There are a large variety of stocks available, including weatherproof label and bumper stickers. Post-it notes and buttons are also available here.
(PLEASE NOTE: Our machine that performs the following printing tasks is currently offline. We are hoping to get it repaired ASAP.) For quick turn-around, single color roll labels with no minimum, we offer a varying assortment of label sizes, media and ink colors. Although not high resolution for complex graphics, these are suitable for text and line art. The smallest size we use is 1.5 x .5. Our largest label size is 3.5" wide. We can also print in lengths up to 12".
Barcoding is available in all standard formats, or you may provide us your ready-made barcode in .TIF format.

Numbering. We offer forward and reverse sequential numbering in any increment needed, with multiple occurrences or the same number allowed.

We cannot guarantee we have the size you need in stock, but if we do, we can usually complete your order in 24 hours if needed. We can also order a variety of sizes, and can keep your size on the shelf if it is a regular order.

Labels are available in matte, polyester, clear acetate and satin (for clothing labels).

We can also print on cover stock for quick turnaround cards and invitations printed with gold or silver ink.

We can order some sizes with colored backgrounds or colored borders. These must be ordered as they are not stock items.

PMS colors are not available, but we carry black, red, blue, green, gold and silver inks. Often available are orange, burgundy and lavendar.

Due to the vast variety of quantities, shapes, sizes, media and colors, we do not provide a price list, but can quote as needed. Typically, expect a $7.50 set-up fee, $5.00 for colors other than black, and a per label charge depending on the above listed factors.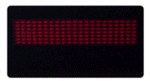 Scrolling LED Badges
Only $29.95!
Personalize your name badge with a scrolling message that you can easily change with its simple computer interface. You set the speed and message. One of the best advertising items we've seen!