335 Jefferson SE, Albuquerque, NM 87108 (Map) | P: 505-265-3497 | F: 505-266-4538 | F: 505-872-2377 |


Union Signs & Banners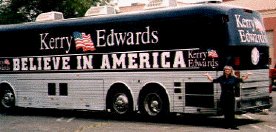 Focus Ink Incorporated is proud to be a member of the International Painters and Allied Trades Union.

For your Union-made signs and banners we offer offset printing, large-format printing and vinyl graphics. See pictures of some of our work below.

Sample price lists may be found on the verital menu to the left.

In 2006 Focus Ink printed for every statewide Democratic candidate.
Whether you furnish your own artwork for yard signs or have us design them
for you, we provide both union printed coroplast, polybags and poly-coated yard
signs. We also can print on non-weatherproof cover for short-term or indoor
use. Call for information. Prices are for camera ready art. We have a large
assortment of standard colors available. PMS matches cost $45.
Double-sided polybags
Gill-Line
Prices reflect white coroplast, contact us for different colors. Bleeds are NOT
available on yard signs. Metal "H" frames are $.95 each.
Coroplast, small sizes
Coroplast, large sizes
Coroplast, special shapes
Golf Hole Sponsor Signs
These blank signs allow for your addition of 8.5 x 11 printed sheet. If you would like to give these as a gift to your sponsors, we can add vinyl lettering or printed full color adhesive vinyl with your sponsors name as a more permanent trophy.
Double sided yard signs
These signs include frames and a double sided print on a weather resistant
coated cover. Full color signs have a set-up cost of $198. No set-up fee for
spot colors.

21" x 34 1/2"
16" x 26"
8" x 26"

Double sided, 22" x 28" (After folding, finished size is 22" x 14")
Signs are scored and provided with a die cut hole for use with wooden stakes which can be obtained from local lumber companies.
Presidential candidates have come to rely on us. Note our signage and banners in front of and behind both Bill Clinton and Bill Richardson below. We are proud to have designed and produced the artwork on the John Kerry and John Edwards Southwest Tour Bus.